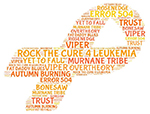 Rosenedge supports
"Rock the Cure 4 Leukemia"

Band


Vaughn Pokrzywa - Rhythm guitar/vocals; Paul Linville - Lead guitar/backing vocals; Kevin Fisher - Bass guitar; Wes Porter - Drums/percussion.
The band's sound has been described as melodic, heavy and modern.
Rosenedge wants to expand its radio airplay throughout the United States and abroad.

With their CDs and EPs, available locally and on iTunes, Amazon Mp3, Napster and Rhapsody, they hope to reach fans worldwide.
News & Updates


New EP, "Louder than Reason," out now. See left. Show dates coming soon, watch this site for updates.
New single, "Trust," available for streaming on this site in advance of the release of the EP (now available).
2 new radio stations are playing Rosenedge's music
Check out our Merchandise page
New pics just uploaded to the Gallery from the March 2 show at Riley's
Show date: March 2, 2013 at Riley's in Ashland
Lyrics for "Ashes" are now posted.
New Press Page with review of "Brickwall" by FABRYKA Music Magazine
Rosenedge's new CD, "Ashes" is now on sale On iTunes, Amazon MP3, and Rhapsody.
Rosenedge has had two songs accepted for airplay by Keepin' It Radio, an internet radio station featuring local talent.
New Lyrics page
Unsigned Truth will be playing "Brickwall" and "Do What We Want" from Ashes.
Listen to Keepin' It Radio for "Halo" from Ashes, and Breaking Me" and "In Due Time" from Unknown on their airplay rotation